At Dalata, our ambition is to be as welcoming and rewarding to our staff as we are to our guests. Our people drive our success, reflect our culture, and create our customer experience. Our employees are given opportunities to learn and grow further throughout their careers. With all our new hotels, and extensions to existing hotels currently under construction, there are real career development and promotion opportunities on offer.
We take care of our people at Dalata and take health and wellbeing very seriously. We are committed to having policies and practices in place that reward employees and look after all aspects of their wellbeing, physical, mental, and financial. We're proud to offer modern and effective approaches to diversity and inclusion, health and safety, and adhere tightly to industry-leading labour practices.
Responsible Business
Inclusion & Diversity
At Dalata we embrace and celebrate diversity at all levels. Our priority is to continue to nurture an inclusive culture, creating a workplace where everyone feels valued, can contribute equally, and can succeed and progress in their careers, without any barriers.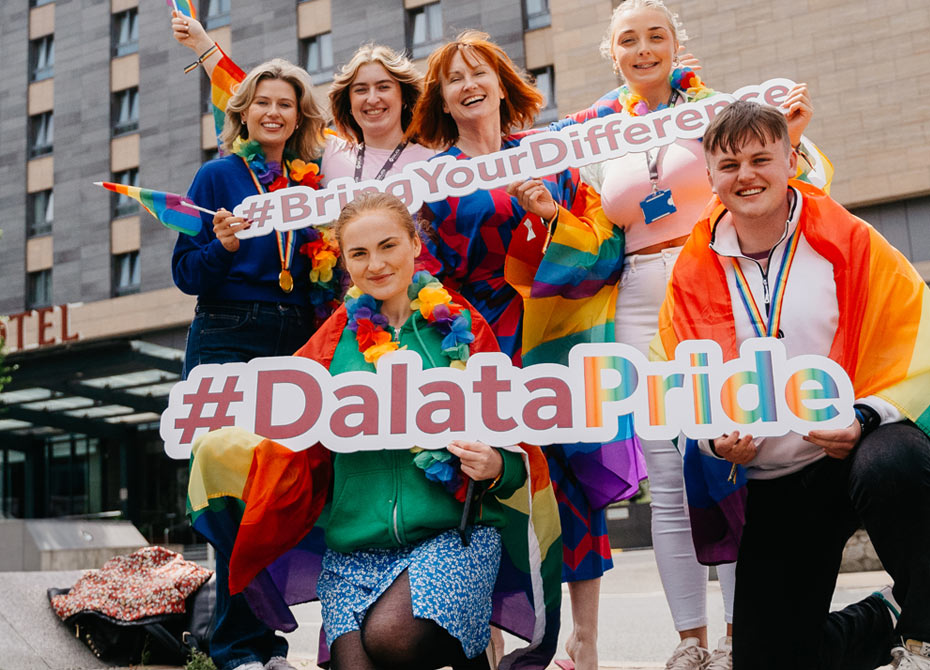 At Dalata, our ambition is to be as welcoming and rewarding to our staff as we are to our guests. To make this happen we have four main areas of focus.
Nurture
We develop and grow our talent.
Care
We take care of people like nobody else in our industry.
Prioritise
We put people first through inclusion, diversity, and innovation.
Empower
We have a decentralised model that empowers, at scale.
Learning, Development & Succession
At Dalata, our people are our priority and we put great emphasis on learning, development, and career progression at all levels and across all functions of the business.
We understand that we all have different learning needs, and we ensure there are many different ways to develop through tailored training plans that combine on the job training with mentoring, training workshops, and innovative digital learning. There is always a solution to help our employees achieve something new. We offer all our colleagues the opportunity to grow and develop and our dedicated human resources team are always on hand to help new joiners settle in.
Each member of our team can have personal development plan tailored to their needs and unlimited access to online resources & training with our Dalata Academy. We offer best-in-class career growth & progression through over 15 unique and Dalata-originated development programmes. Feedback, guidance, and support is always available to ensure that each of our colleagues thrives in their role.
Dalata's decentralised management approach means that the Senior Managers in our hotels are trusted with strategic management and operational responsibility. Supported by the central office, the Senior Managers take care of revenue, service, customer experience and people management & development. We love to see great people do remarkable things and diligently support "home grown" talent. With all our new hotels, and extensions to existing hotels currently under construction, there are real career development and promotion opportunities on offer.
Caring for our people's wellbeing is at the forefront of our people agenda and this has been demonstrated with the appointment of the role of Group Engagement & Wellbeing Manager.
We are committed to supporting our people's efforts to lead healthier, more active lives. We've increased our focus on good mental health in the workplace and continue to provide Mental Health First Aid Training for our managers. Telus (Employee Assistance Programme) is a wellbeing solution available to all of our people that provides resources, support, and advice across a range of topics such as family, health, money, and work.
Our mission is to support, encourage and guide our people to improve their mental fitness. It is our intention that we can create a physically and psychologically safe and inclusive environment for all our people, with a focus on prevention rather than treatment.
Some of our initiatives include:
Supporting our people's overall mental fitness
Rolling out a wellbeing policy
Starting our journey to earning a Workplace Wellbeing accreditation
Continue to provide Mental Health First Aid Training
Health, Safety & Security
Dalata are committed to ensuring the health, safety, security and welfare of our employees, our guests, and visitors to our hotels. Our proactive health and safety programme ensures that we carefully and strategically manage all risks impacting our hotels.
We have successfully reduced incident categories through the implementation of our policies and procedures.
Our detailed incident trend analysis has provided clear direction for health and safety strategies, including direction on capital expenditure, resulting in measurable investment in our hotels from a health and safety perspective.
Our safety and security programme has increased our electronic security across our hotels.
We have also created and delivered extensive health and safety training to our teams, so that we operate safely at all times and react appropriately to any scenario that may arise.
Our Safety Promise Programme is robustly tested by Bureau Veritas, world leaders in testing, inspection and certification in health and safety practices around the world. Clear audit benchmarks support us to achieve our health and safety responsibilities and ensure that we are continually achieving the highest standards of safety across all hotels. Our audit programme delivers an impartial risk-based test and inspection. It measures management commitment and employee involvement in health and safety in each hotel. Each hotel received the certification award in 2022.
Dalata have a people-first approach; our people are the cornerstone of our success as a hospitality business. We place a huge emphasis on maintaining high labour practice standards in order to protect and support our colleagues at all stages of their employee journey.
Dalata Hotel Group adhere to all labour practices in accordance with the relevant legislation in the countries that we operate in, and we are guided by our core values of Our People, Fairness, Service, and Individuality. We strive to act ethically with integrity, honesty, and professionalism in all aspects of our business, providing a fair and safe working environment to our employees. Employees and managers receive extensive training and support to maintain these high standards, including training on the risks of exploitation through modern slavery.
Our onboarding process ensures a timely delivery of employee documentation. We deal with any employee grievance fairly and effectively; and provide extensive training and supports for employees in all the key areas such as health and safety and human rights.
Our disciplinary process is designed to be equitable, with three stages, and requires our managers to uphold our core value of fairness. The same approach applies to dealing with employee grievances. In addition, our protected disclosures mechanism – Speak Up – allows our employees to speak up in confidence should an issue arise.
As part of their induction training all employees complete a training module on labour practices through the Dalata Online training platform. Employees are also briefed on the policies, guidance and safeguards that are in place on joining the group.
TESTIMONIALS
Employee Stories
We want our staff to be proud to work in Dalata, who share our passion for excellence in service, and dedication to the customer. In return, we offer a fantastic place to work and development opportunities.