Reasons to invest in Dalata
There are many reasons why investors choose Dalata, from our ambitious growth strategy, to our focus on sustainability.
Where we are as of H1 2023
Engaged, experienced and ambitious teams throughout the business
We're people-first. After all, our people are the cornerstone of our success. We provide a safe and inclusive environment for our 5,000+ strong team. This means high standards and a space where everyone feels valued and can contribute equally.
Investment in people development and skills is essential. Central to this is our award-winning Dalata Academy, and our extensive graduate programme, delivering bespoke training at all levels across the business. Team members upskill, deepen their expertise and accelerate into senior positions.
Developing our people internally ensures that we embed a robust culture and have a strong pipeline of talent. Growth brings opportunities, and our succession planning is key to maintaining our culture.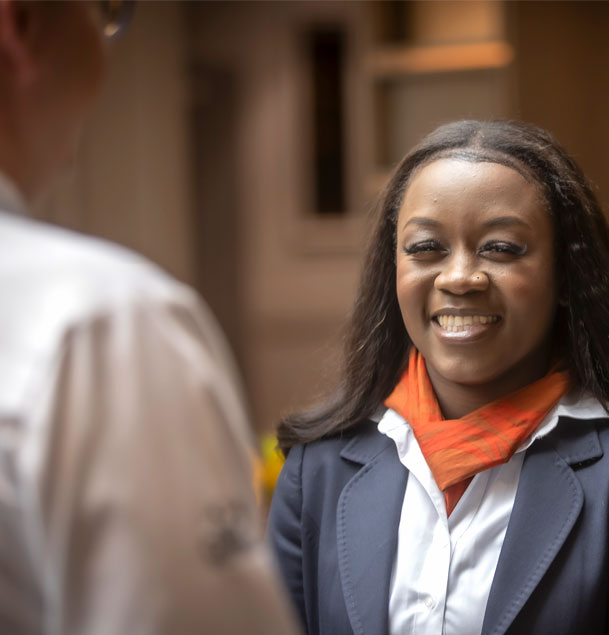 Operational expertise and high performance through a decentralised model
Decentralised decision-making empowers and incentivises local managers, supported by experienced central office specialists, to optimise hotel performance. Decentralisation enables an agile response to each property's unique market and competitive landscape.
In H1 2023, we delivered strong operating performance with Hotel Revenue of €284.8 million (+29%), Adjusted EBITDA of €103.4 million (+24%) and Free Cashflow of €59.2 million (+5%), all outperforming H1 2022 levels.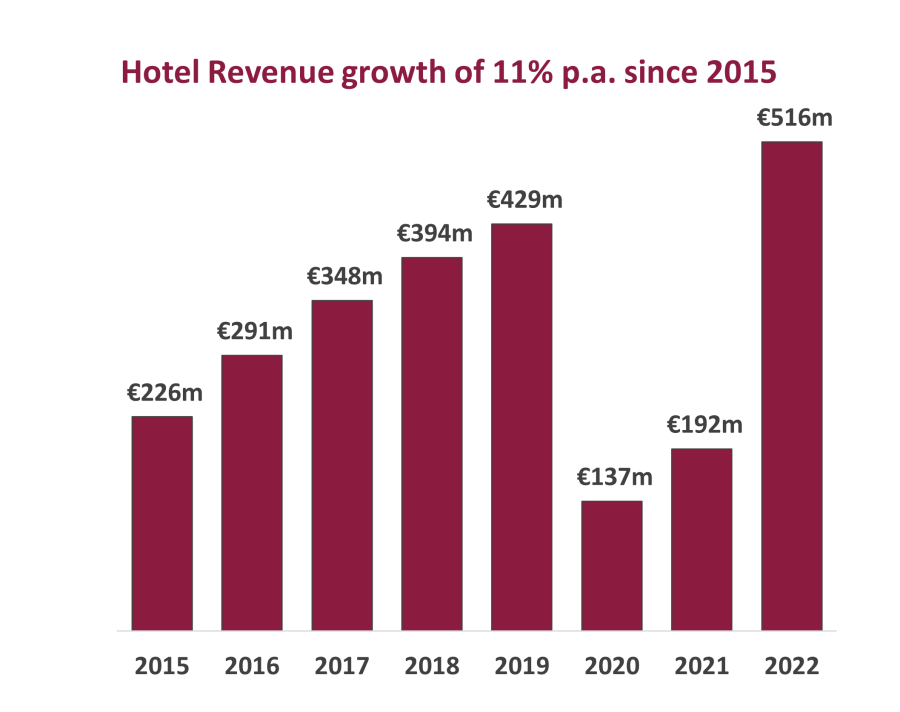 Strong pipeline of additional rooms in core markets
We are committed to delivering sustainable shareholder value via an ambitious growth strategy and optimising our existing portfolio. We have identified a structural opportunity to grow our business in the large regional UK cities, as well as opportunities in London and large cities in Europe.
Our current pipeline of 1,141 rooms includes one hotel in London, three regional UK hotels and one hotel in Dublin. On completion of the current pipeline, the total number of bedrooms will exceed 12,000 and we remain ambitious for further growth.
Last year seven hotels and over 1,900 rooms were added to our portfolio, including our first step into continental Europe with the lease of Clayton Hotel Düsseldorf. In 2023 we have grown our London portfolio by 64% year-to-date with the acquisition of Maldron Hotel Finsbury Park and the newly rebranded Clayton Hotel London Wall.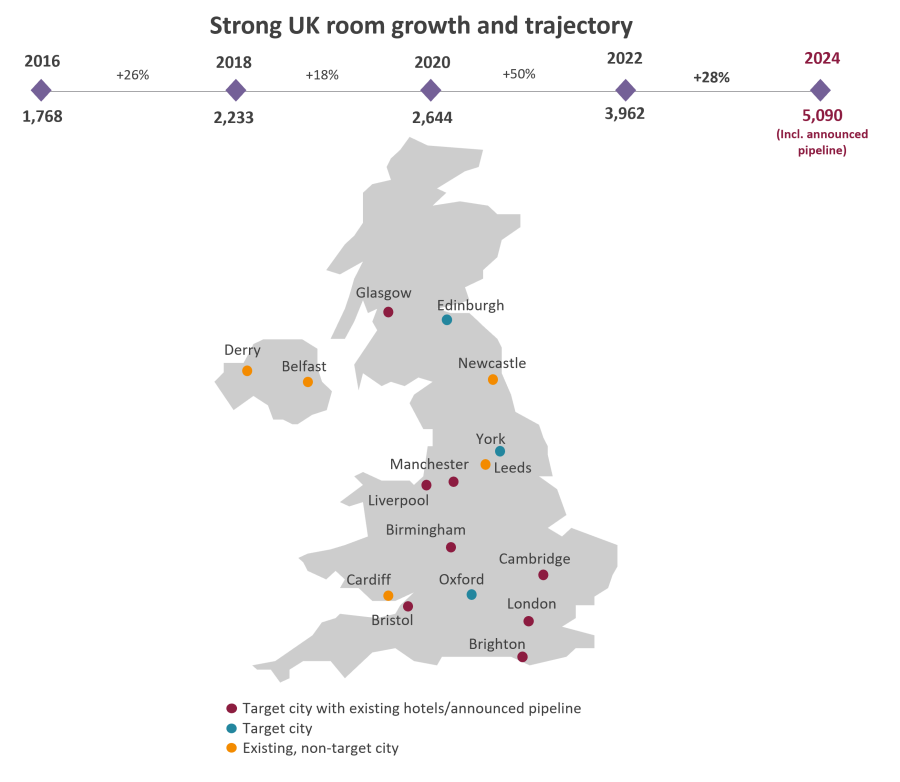 More great reasons to invest
Modern, well-invested hotel portfolio with asset-backed balance sheet
Our portfolio of 52 hotels (31 owned, 18 leased and 3 managed) consists of primarily four-star hotels situated in attractive city-centre locations, and we maximise return on investment through our expertise as both hotel operators and asset managers.
Our owned properties, independently valued at €1.42bn, provide liquidity when required and allows access to covenant-backed leasing opportunities.
The average age of our buildings is 17 years and is supported by refurbishment capital expenditure programmes. We allocate approximately 4% of hotel revenue to these programmes to ensure our portfolio adheres to our brand standards and remains fresh for our customers.
Leading hotel brands and market positions in Ireland
Our principal brands, Maldron and Clayton Hotels, are Ireland's most successful hotel brands.
Driving brand awareness and recognition is a priority, as we continue to expand in the UK and continental Europe.
We are committed to investing more in understanding our brands, and our customers, ensuring we build customer-centric offerings that meet our customers evolving expectations.
Sustainable growth through our ESG framework
Central to our core objective of designing sustainable hotels is to create a cost-effective, low maintenance, energy efficient and low carbon property.
In the UK, we are targeting a high Building Research Establishment Environmental Assessment Method (BREEAM), and as part of our commitment to provide the best-integrated design solutions, our design teams also target a LEED (Leadership in Energy and Environmental Design) rating of 'Gold'.
We have partnered with Green Tourism, who offer sustainable accreditation, and all 48 hotels assessed in 2022 received the 'Gold' Green Tourism award.
Excellent reputation and strong relationships provide strategic optionality
Financial discipline provides us with strategic options when considering new opportunities to create long-term shareholder value.
We develop excellent relationships with our shareholders, banking partners and real estate investors and can access both debt and equity funding to support the ongoing growth of the business.
We maintain a robust and stable capital structure capable of supporting the business through the economic cycle, withstanding rapid macroeconomic change and unforeseen external shocks.
Experienced and skilled Acquisitions and Development Team
The multi-layered expertise of our in-house Acquisitions and Development Team enables us to create value through hotel financing, acquisition, design and development while executing on our ambitious growth strategy.
Dalata are responsible, people-first hotel owners and operators, aiming to deliver exceptional experiences for everyone who work with us, stays with us or invests with us.
The Dalata Brands 
You probably know us by our primary hotel brands, Maldron Hotels and Clayton Hotels. At the moment there are 22 Maldron hotels and 26 Clayton hotels. Other distinctive hotel brands that are part of the Group include The Gibson Hotel and The Samuel Hotel, both located in Dublin's docklands. Many of our hotels feature our Club Vitae leisure clubs, Red Bean Roastery coffee shops and Grain & Grill restaurants.
Our Origins 
Dalata was founded in Ireland in August 2007 by Pat McCann, who identified an opportunity to manage and acquire hotels under replacement cost, arising from the market dislocation that resulted from the great financial crisis. Dalata initially acquired several hotels from Choice Hotels Ireland and began planning for a future IPO to fund Dalata's expansion.
Rapid Growth
In March 2014, Dalata listed on the ESM market of the Irish Stock Exchange and the AIM market in London. Between 2014 and 2015, Dalata raised €850 million in equity and debt and embarked on a rapid acquisition strategy. The Group acquired 19 hotels, including 9 hotels from the Moran Bewley Hotel Group at a cost of €452 million. During this time, Dalata also launched the Clayton Hotel brand and relaunched Maldron Hotels, which are Ireland's most successful hotel brands.
Expansion Into The UK
Dalata identified a structural opportunity for UK expansion, focused on large Regional UK cities and London using its acquisition, development and long-term leasing models.
Responsibility And Recovery
The Group underpinned its financial security by completing the €65 million sale and leaseback of Clayton Hotel Charlemont in April 2020 and raising €92 million in a September 2020 equity placing. This supported the momentum of our development activity, and we proudly delivered our largest year of organic growth in 2022, adding 7 hotels to our portfolio.
Everyone's Welcome
We welcome leisure, corporate and tour guests to stay with us. Guests and patrons also use our conference and events facilities, meeting rooms, leisure clubs, and food and beverage offerings. At Dalata, we aim to provide a positive, enjoyable experience for all customers and guests throughout their journey with us.